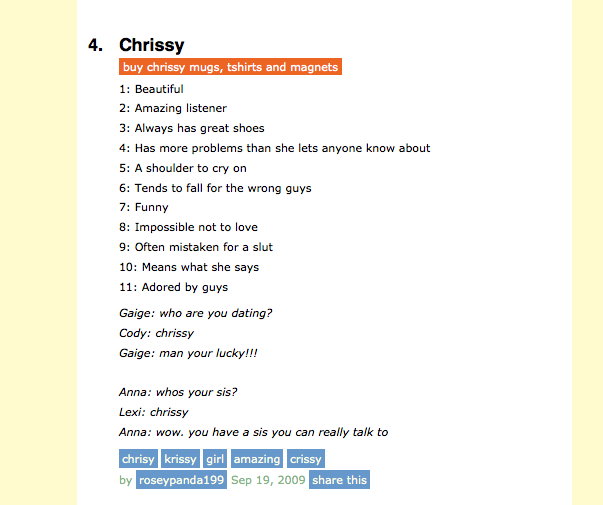 (source: http://www.urbandictionary.com/define.php?term=chrissy)
I'm still struggling with 1 and 3 but the rest is pretty much me. Though I need to stress that my short name is written with an "-i" at the end, but Englishspeaking people will always "-y" everything so I have to go with that.
Did you know that I can tell my friends apart from the way they are pronouncing my short name? There are only a few who call me "Chrissi" with emphasis on the "-iss-" and the other one call me "Chrisi". But I prefer the latter. Back in school days everyone named "Christine" was called "Chrissi", and I hated people who couldn't pronounce or remember my name the right way, so in order to show my (not-fully-understood)-protest I insisted on "Chrisi".
How come I blog this? I don't know. It was simply there and it was fun…
…which is an excellent connection to the topic of overall happiness. 34 days ago I decided to be happy this year. And it seems I'm getting the hang of it. I still find myself worrying a little too much about life in general, but I tend to turn these worries into some sort of "and even if"-thinking. I mean, I had it all, and by all I really mean all, so everything that will happen this year will depend on my decisions. So I should skip the bad ones from last year and just be me. The thinking always has been me, but it doesn't take me anyhwere so I wonder if thinking that thinking is me is totally wrong.
What is making me unrestrainingly happy is to take my camera, go out and shoot some pictures, see the nature and the people and feel happy, maybe even get wet or cold feet but return home tired and happy. I find that distraction is the key to my happiness. This goes well with my theory of actually doing things instead of reasoning them all out and not getting anywhere.
Some might say you can't run from the sad and nervewrecking parts in your life, but I tell you what, you can at least try! This was also a point on my list of happiness: unload the weight of fear and worry and hand it over to someone else. Actually the rest of my family is so much better in figuring things out. Maybe I've stopped wanting to be everyone's lifesaver?
Right now I'm still not sure where I'm headed with my media career, I thought about becoming an HTML/CSS-teacher for starters, I really want to lecture and talk to and discuss with people, but I have to think this through. What I realize is that this phase of unrealized creative energy is so much longer than the last one. I've got so many ideas! I'm into so much stuff! It's true when they say that the internet is lowering your attention span, I can't deny it, but that applies only to my media interests, not the rest of my life. I paid so much attention to the packaging design, and I spend so much time outside with my camera, I even found the time to put it down and appreciate the time of just catching images with my mind, ears and eyes.
When I started reading focused on the Internet, focused on everything related to my design interests and other important stuff, it made me restless to see the load of unread entries. That behaviour is changing. I'm becoming calmer. Information overload is not so much present anymore, and if it is, I realize that that's the way it is. The truth is: what's really important will always find a way through. I find that I'm much more creative right now in departments that I didn't intend to spend time with. One of it is drawing, as well as typography, though I'm a web girl I love typography so much. I always thought that avoiding is only due to pure fear to not meet your own expectations, and that procrastination is a form of laziness, but once more these days, inbetween work and school I find myself finally doing the things I'm supposed to do, like learning for my exams or getting something ready. Everyone arround you is giving you the impression that you're too slow, but the truth is, the speed with which things happen and the time one needs to comprehend things differs so much from what others want you to think.
I will take my time, and I will be successful with my stuff, and I definitely won't worry anymore if my way of doing things is alright with others, as long as it's alright with me I'll stick to it.
fav. music right now: Two Door Cinema Club – Do you want it all? (they remind me a little of Death Cab, but the happy version!)