In one of the main subjects in the second year of a digital media designer's training, you are challenged to spend one term with doing two free projects completely on your own, of which one is doing a Flash banner and the other designing a package for a product.
While doing the Flash banner was a bit (let me say it casually) exhausting, since it's not only not up-to-date in terms of proper advertising (and accessibility) in times of Web 2.0, and as well due to the fact that we had a specific topic which was rather…dull, I was looking forward to package design. I thought it would all turn out pretty easy due to the flow of creativity.
But it didn't.
It wasn't because of the task at all, it was, because the class decided to change the topic from packaging for tea and coffee to condom packaging. When I first heard it, I thought it was a joke. But it wasn't. Designing a tea package is truly no challenge, and in matters of the short time it would've been easier to accomplish.
There were a few steps to accomplish to get a good grade:
1) Get some inspiration, draw scribbles, decide on the form of your package. Important part is the complexity. It was not ours to rebuild an existing package but rather think of something new, taking the aspect of sense according to the contents into consideration.
2) Decide on a theme or topic for the design.
3) Do the package properly in Illustrator, pay attention to gluey tags (resp. they don't necessarily have to be coloured) and colour space (CMYK!!). Turn it into a printable PDF.
4) Decide the paper weight you'll need.
5) Print the package, hand the teacher both master pdf and the readily-glued, finished package.
Common problems
Someone who has never really paid attention to package design in everyday life will find him-/herself mess with the fact that a perfectly thought-out and drawn package will not automatically fit when glued together. One critical point I myself found lacking in my considerations were the folding lines. We were limited to hand-build the package, so we wouldn't be able to use a professional plotter with the ability to mark the folds resp. to die-cut them.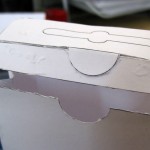 Another thing is perforation for the opening tag. When industrially crafted, it works like a charm, but cutting the wholes with a scalpel or cardboard cutter is different. You have to do this cutting a several times until you find a matching distance of gaps.
Best is to only leave 3 or 4 tiny bits of cardboard connections (see image on the right) in such a distance that ensures that the tag neither tears apart nor requires a lot of power to press it down. Be sure to consider different weights of cardboard to make this as easy as possible without tearing the whole package.
At last it's important to decide on the used glue. I found fluid glue too weak. A friend skilled in package design recommended to combine fluid glue and both-way sticky tape.
Deciding on a form
It's important to do the basic stuff at first. You'll want your design to have a proper size and a large projected area to attract the customer. For me, it was easiest to examine existing packages from everyday life, in my case packages of condoms, carefully unfold them and find its weaknesses and its strengths. Make sure you choose a form that matches the contents. It's not very cost-effective to have a lot of scrap or wasted empty space. Unfortunately we were told to do a cardboard package. I would have come up with something different, like a round metal box or something made of glass that fits the form of a condom better.
Deciding on a theme
When hearing about the topic, condoms, I decided to do something totally different to what customers can currently buy. In my opinion the current design of condom packages makes it hard for young customers not to be ashamed. The design often is very conservative, plain and straight, failing to carefully approach a younger audience. Since I was really into the movie "Juno", which deals with the topic of underaged pregnancy, I decided the target group to be young adults between 14 and 18. The product was supposed to be happy, fresh and appealing while not trivializing the severity of the topic.
Sources of inspiration
Websites:
Deciding on a logo and a font
In Web design, I am told to orientate the font of the site to the given company logo. It doesn't make any sense to have a modern Helvetican logo and use a Times for copy. Same applies to packages. If you don't have a logo, borrow an existing brand or create one. Doesn't have to be too perfect. Having a simple logo to rely your further design on makes it a lot easier. I invented the brand Feelgood(R).
Since our product is commercial but not intended for the real world, it's not so important to pay attention to legal issues. FuelYourCreativity and WebDesignLedger often feature fonts, so just have a look over there. Fontsquirrel offers fonts for commercial use. Dafont is also worth a look. If you know a certain font from somewhere but don't know the name, try WhatTheFont.
Getting started
One last thing to pay attention to is the description on the package. It was our task to design a sort-of real condom package, so grab an existing one and copy the descriptions and symbols you'll definitely have to have. In my case it consisted of the usual description and a bunch of symbols which I drew in Illustrator, like the official "CE"-seal, the bar code label and a few others.
The design process as such and staying focused
Having considered all of these steps, it would seem pretty easy to get started on the design. I tried a bit on copying the Juno drawing-style and was successful. Nonetheless, combining all parts nothing would look good to me.
When seeing trough the package designs others made, you'll easily lose track of what you were looking for, you'll dive right in and search every design for its best parts (the ones you're likely to adapt) and finally you'll be so unhappy with your own work, finding it lacking all the wit and inventiveness the other models showed.
Here comes some advice: First, don't forget that most of these packages were either made by a specialized company and in a larger timeframe and with lot more of money and people working on it or they were a project of design students. The difference between a design student and a media design trainee is relevant, since a design student actually does nothing else than designing stuff while a media design trainee does this as part of only one school subject. The rest of the time he or she will spend in the office, coding websites or writing concepts or accomplishing only one of these steps of a package process, but not the whole.
And second, bear in mind that even if you're not sure about your design, others (e.g. customers) might be. So get a second or third opinion before losing faith and starting over.
In short: As a media design trainee you'll just not have enough time or knowledge or technical equipment to build something perfectly unique. So drop that part and lower your expectations!
Drawing the outline
[nggallery id=10]

We used the programm Illustrator from the Creative Suite from Adobe to draw the outline.
I wanted my package to be folded on top of the sides, similar to a bag for candies. Though I realized that using this kind of package for square or rectangular content would indeed produce waste, I was sure that this would meet my expectations. Let me give you one piece of advice: if you want the sides of your package to tighten at the top, use my method, since trying to cut the sides in diagonal but still fitting parts in Illustrator is a waste of time. Even if everything matches afterwards, you're likely to find your package blow up to one side due to a 1mm-wrong-measurement. I've checked packages with this technique in stores and almost all use this method. And the industry should know why 😉
I started with the outline, printed it a few times on usual paper, folded it, did some adjustments – and finally it worked out. Note that I added a fixture to hang it up in drug stores. Here in Germany all packages have this. Not that it was a must-do.
[nggallery id=11]
Drawing the design
[nggallery id=13]
I created a second layer in Illustrator underneath the one with the outline, locked the above and started drawing.
Front
Logo: Used Font is deibi, which is available here. I wanted to do more with this cute font, but it turned out that the design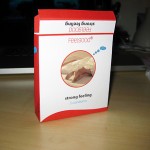 would appear too childish. Being Juno while being serious was a pretty hard thing to do, I tell you!
Image: Image is taken from a stock image database. It shows a couple lying in bed with only their feet visible underneath a blanket. I wanted the image to convey a feeling of coziness, with soft colours, so I used Illustrators' "Trace" function (in German it's called "nachzeichnen") with less colours than in the actual image.
Cloud: All clouds were drawn on a graphic tablet. I borrowed a Vacom Fun from a friend.
Colours: Warm but strong red with a touch of pink in it. Light blue to match the carefree-clouds. And some sort of dark grey for plain text and descriptions.
Font: Myriad Roman. I was so much into Museo, but at last I decided that it didn't match.
Back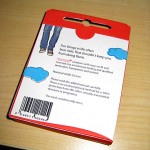 Barcode, expiry date, CE-sign: Drawn in Illustrator, copied from an existing one on a condom packaging.
[nggallery id=14]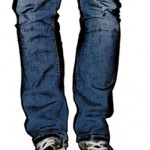 Legs in Juno style: Those are actually my legs. I used the selftimer to shoot them. I didn't want to steal any image from the movie, so I copied the Juno style from a description that I found in the comments of the agency that produced the movie credits. Since I wasn't able to use a real copier, I used the "like a printed copy"-filter in Photoshop to achieve this. I'll write another how-to about this.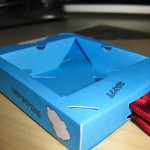 "Drawer" inside
Font: Action Jackson, which can be found here.
It's in the details
My outer packaging has a large fold the width of the package on top and a perforation outline on the back.
The spot where the thumb pushes the perforated fold inside to open the package is glued to the back of the large fold (but only this exact spot, not the rest of it!)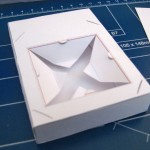 I wanted my packaging to contain some sort of drawer to pull out. I had to measure the height of single condom packagings. I liked the way perfume was packaged, in some sort of cavity, so I tried to build this as well as I could. There was room for 3 single pieces. I lateron put the blue colour of the drawer on both sides since it wouldn't look so nice when all blue folds were glued onto a white bottom.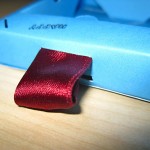 I cut thin lines into the top side to later put a beautiful ribbon through it. This way it's very easy to pull it out and back in. Some may call it girlish, but the final design turned out pretty well. Third, I wanted to include a leaflet with a manual. It was not part of the task. But as a perfectionist, I had to do something full-circle, something that might be close to a real package. So I added four cuts on each corner of the inner "drawer" to insert the manual there. This way, one is forced to read the manual first before getting to the "good part". The manual has a step-by-step description with images, so even younger people know what to do. And it has only 2 sides to read.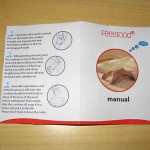 The manual
The text and the graphics were copied from a real manual. I put some of my own drawings in it as well as the design from the package front on the front of the leaflet. Corporate design, recognition and stuff, you know?
The final print(s)
…were actually a lot more, about ten or more. I wanted the outline to be inside (=invisible), so I created a new file in Illustrator with two sheets of paper with horizontal orientation. I put the colors and drawings left and the outline right. It took me some time (and a few wasted prints) to figure out the measurements and the direction of the paper in our printer, since it turned the paper around and rotated it to print the back. I checked the match through holding the cardboard against a window so I could see through. Finally it nearly fitted.
Cutting
I used a normal cardboard cutter which is actually made for carpets. I used a professional paper cutter and some sheets of used cardboard as an underlay. Cut slowly and concentrated to not mess things up. Parts that need to be cut out fully can be cut with more pressure on the cutter. Parts that only need to get some help for folding (like the side parts) should be slit very slightly. Pay attention to rounded lines and the perforation! Just in case write down the steps, e.g. what needs to be folded first, what needs to be glued first etc.
The final parts
Be VERY careful with the glue unless you want to print the whole packaging once more. Glue all parts, let them dry a little, then put all parts together. DONE!
The final packaging:
[nggallery id=12]
Good luck with your packaging! Hope this entry helps a little on the process.
Please excuse if I chose some wrong terms (is package design correct or packaging design?) and please feel free to correct me via a comment underneath this entry!
ps: this long crimped post made me realize I really need to start redesigning the site 😉