I just have to share this moment. Jessica Watson rounded Cape Horn on January 13th, 2010 and was able to "see" her parents flying above in a small plane. There are heartrending pictures of this meeting and a newspaper text. On the media sites' video corner you can watch a video of her excitedly showing the land she's been wanting to see for two months and how happy she sounded!
Actually I have no idea what it's like to be out at sea for three months and no landmark close, sounds weird, it surely is weird, and the weather hadn't been nice, but the excitement in her voice in that video, I think rounding Cape Horn and sort of meeting with her parents after that long passage at sea was the very motivation she needed to keep going.
I'm so happy for her!
Me, I'm realizing that being on the road is what I love as well. I'm planning on an Interrail tour around Scotland for 2011, after my (hopefully) graduation from my media design training, and today I talked to my brother's girlfriend who's already done it and I felt so alive only talking about the things you need to organize for and imagining myself close to Loch Ness!! I've been so busy the last few days and actually weeks, I love how that motivation to aim for something makes me want to jump and dance and go for it right now!
Today we had a funny photo shoot at the Airport Cologne, with three friends of mine. It's a photo task for a subject at school and it was really fun. We needed to catch portraits of anger, happiness and sadness, and we faked arguments to make our model get angry and jumped for happiness and laughed and faked tears through soda water and though I was really tired from the night before we made it.
It was my first real impression of a photo shoot, and I have to say I liked the atmosphere pretty much. We had to raise tension a little to get to "anger" but all we could do was burst out laughing and turn and try to be serious again 😉 Meanwhile I was heading around with my Holga trying to find different motifs. Being so professional while not actually being it felt good. I can imagine myself doing such a thing from time to time. As the photographer of course, not the model. I don't like pictures of myself taken by others, they don't really get me I think. Today was my first longer encounter with my brother's Canon EOS 1000D and I'm closer to it every time I have to deal with it…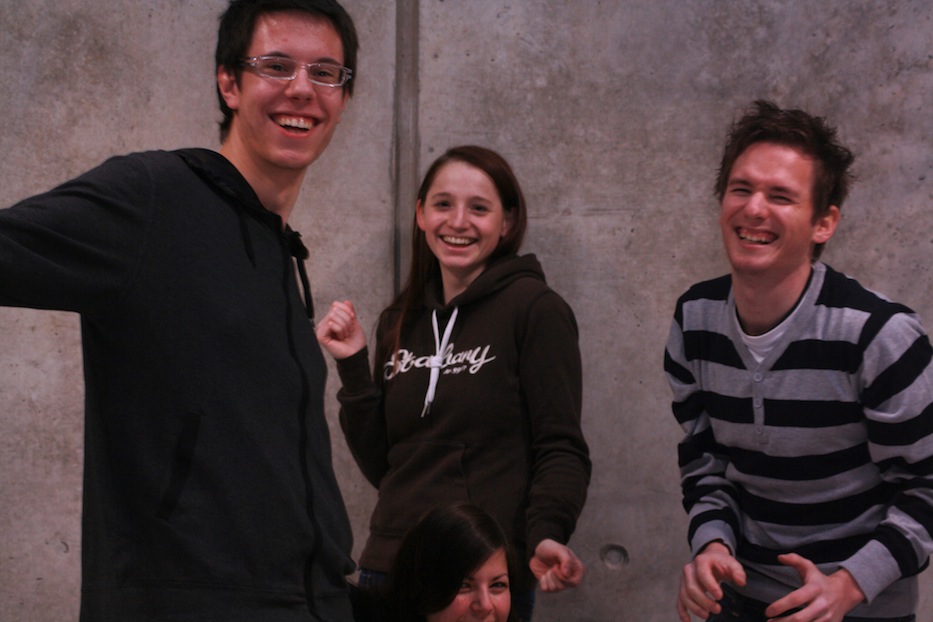 (Pic above: Funny Photoshoot at the Airport Cologne, me being pale and tired and wearing the most awful but cosy sweater I own)
I LOVE being in action. It makes me forget everything, and when I'm getting home I'm so tired I can't even think of thinking of things, and that's exactly what I need!
Maybe I'll do something similar when (as well hopefully) getting my driver's license this spring, something crazy and spontaneous 😉
This year is gonna be amazing in every way, and I can hardly wait to get going!
Sweet Disposition – The Temper Trap