While sitting in my bed and blogging, the sun is shining brightly into my room, throwing a large ray onto the floor and highlighting some of my favorite stuff, I like that. The second CD of atb's "Trilogy" is playing, so I'm kinda relaxed.
WordPress update went pretty well so I'm a little bit sad that I have no stuff to fix here. Seems like the wordpress guys finally made it happen: the easy to update, easy to use publishing software. I'm giving you an insight into the new layout, see beyond, and everything was held really light and structured, I find myself wondering how I was doing before with all those tiny nasty bugs and errors that made me worry and wonder if bloggin or not. Now it is blogging. Totally pro!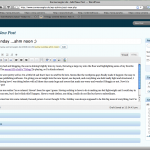 Sitting here makes me realize I'm so relaxed. Haven't been for ages I guess. Having nothing to have to do is making me feel lightweight and I could stay in bed all day until sun sets, but I don't think this'll happen. Have to wash clothes, one thing I really do not like but have to subordinate. Have to eat. Maybe go outside and take some pictures. I took a few during my Kiel trip and the roll needs to be filled with new material. Will think about that.
Being Mac has turned me into some relaxed, focused person I never thought I'd be. Holiday was always supposed to be this big mess of everything, but I'm so easy that I can't even get close to anything bothering, so I write and listen to Fahrenheit 451 (which makes me remember my physics courses where we had to calculate Fahrenheit to degree Celsius and the other way round and I was not so good at that) and I'm thinking a big breakfast in my stomach would make me feel even better, but breakfast tools are not with me today, I can go for a Nutella bread but that's about it. Oh and that tasty Mango juice. Maybe we still have eggs. I'm not so much into eggs, but from time to time I am in for one, and that day is today. Maybe I could find a box of cornflkaes, I saw a bottle of milk in the fridge, well well, things are going my way I guess, so see ya later guys, I'm off to the fantastic world of food…
Meanwhile you could take another look at Hicksdesign, been a while since I'v been there and liked what I saw. As well as Somefoolwitha. Always inspiring.
Here a few shots of the new MacBook Pro which arrived last week. It's my new constant companion. Reflection on screen is nice, not too reflective though. You are able to work as normal as always with the Creative Suite. I was happy to see that you can plug in two USB devices next to each other. A friend of mine with the previous MacBook can only plug in one or the other because they're too close. If it's a USB mp3-Player (one you can plug in directly to fill it with music) it's still a little less room.
So to come to an end, can any Mac user tell me if putting the MacBook into sleep mode (rather than shutting it down) is using battery power or not? Is there a way to find this out??