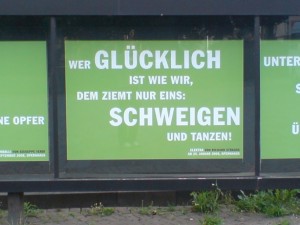 WRITE WRITE WRITE AHHHH.
I feel so good. Damn was this a bright day. That strange windy thing called weather out there, it was like the one in Kiel, sometimes it's Holland-weather, but today it was Kiel-weather, and there I was, done from work, slipped off the bus to home and sat down at the seaside.
And it felt good.

(here is where I get the association that I'm on drugs and I'm reciting the Bible, where God created the earth in six?seven? days *lol*)
The sun was shining bright and warm into my face (don't I ever stop being afraid of sunburn?) and the sky above was full of white dreamy clouds floating by (and an empty crane, strange and beautiful at once, reeling in the wind), and the wind blowing into my face was like I was back there, the old me, once, on the shore of the Förde, letting it blow all the sad thoughts out of my head. And it does work every time 🙂
Second thing why I was so me today was that I had put Jerome K. Jerome's "Three men in a boat" in my bag, which I had started to read a while ago, then given it back to library and finally bought it, because, you can never have enough Penguin Classics in your book shelf 😉 So I was reading the whole inbetween time (as from train to train to work and after work to seaside, and there for a good while with good reading-feeling, and back home).
I realized how so many things can bore me out entirely, and that good written stuff in English doesn't, and how that makes me feel. And then I had this second life thought again, well okay, I might dream a bit of it, but still we have relatives in North America so there has to be a connection, right? And I was laughing a lot so people were staring at me (another funny thing) so I was laughing the more because Jerome can write sentences that make you roll up on the floor in laughter. Like the one, page 79 f.,
There is something very strange and unaccountable about a tow-line. You roll it up with as much patience and care as you would take to fold up a new pair of trousers, and five minutes afterwards, when you pick it up, it is one ghastly soul-revolting tangle.

I do not wish to be insulting , but I firmly believe that if you took an average tow-line, and stretched it out straight across the middle of a field, and then turned your back on it for thirty seconds, that, when you looked round again, you would find that it had got itself altogether in a heap in the middle of the field, and had twisted itself up, and tied itself into knots, and lost its two ends, and become loops; (…)

That is my opinion of tow-lines in general. Of course, there may be honourable exceptions; I do not say that there are not. (…) I say there may be such tow-lines; I sincerely hope there are. But I have not met with them.
So when I got home I was all smiles and got a beer and and threw "Details" of Frou Frou into my CD-Player and cried the lines out into the open.
Now it's Snow Patrol. Loud is good.
I got to say something. I realized something else as well. It's the fact that you can have what you want. I never really believed in it, because society makes you think you still want more things, and you think you may never be truly happy, but here's the thing, I believe you can make it work. Yesterday there was a flicker, a flicker of future, me being happy in it, with a family and a life I love and friends and the sea, wherever I might be. Having these moment like today, when society and all parts entangled with it don't matter to you, that's what keeping you going. Not having too much of it, and only having it once in a while, forgetting how good it felt through the daily rush of work and everyday life, finally letting loose and finding it again, with only a tiny book in your hands and French Fries in your stomach and the sun and wind in your face and the perfect illusion that whatever there may come, you are the rock, you won't break. It's not an illusion at all, I guess. There is more to come, and it will add up to the beautiful sights of experience you had so far.
And then I realized, that trying to be unnattracting to men attracts attention the more. Pity. I was so sure I could do it…
So that was today, a good today, tomorrow I'll try to make it a good one, too. For now there's only one thing left to do: Show you how wonderful it is by the seaside, where I always fall deeply in love with freedom, the wind, waves, birds, clouds, sun, blue skies and everything that seems to float straight into this definition of a wonderful end of a day. And I mean this.
Ah, btw, the warm sundowner out there, that was me, I made all grey clouds get away fast, yes, that's how I am, honorable and a daydream believer *gg*