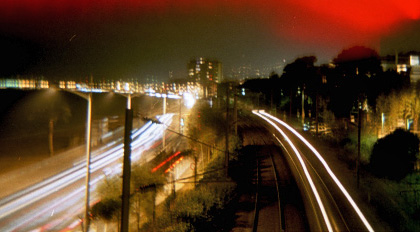 My HOLGA – though a little out of focus – can do THINGS, I tell you. Have a glance at Photocommunity next time around when I have moved all pics there: The newly arrived Canon CanoScan 8600f was worth the Scanner-Pro-Contra-Filtering-work because he makes me finally see my shots. I'm so happy.
One more thing I have to figure out is the scanning of the perforation, because, for all you newbies around, the HOLGA also supports small 35mm-format, but of course the image overlaps with the small film and the motiv is as well on the perforation. My Canon doesn't support this feature for including perforation in the prescan irritates the white and black fader: the prescan becomes blue all over.
I was scanning yesterday, today, will be tomorrow and the day after tomorrow and…
And then worst-case-scenario happened: I opened a fresh bottle of sparkling water next to my desk where all the negatives lay spread – andthe bottle suddenly hissed loudly and half the content was sprayed over my negatives…!!!!!!
But BRE-EA-TH-E, I was lucky. Only one little speck on one of my pictures which I will work with PS and hope it's gone then.
RULE FOR PHOTOGRAPHERS: Never, never, never eat or drink next to your negatives!!! (well actually that rule's for me since I am sure any other photographer wouldn't have been so dumb to just do that)
Okay, everything's fine. I'm done with scanning.
By the way, today we had an awesome evening sky, and I was about to get on my bike and find a place to shoot, and finally I did, catching a beautiful warm winter sunset at the fields nearby, I was so —- (psyched) 😉 A man walking by was smiling at me, adding: "You have a wonderful sunset here to shoot, haven't you?" I was smiling all over and nodded. HAH-HA! I love LOVE lurve those days!