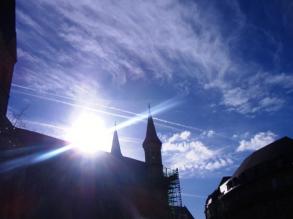 We have: LOTS of blue skies. SUN. Spare warmth (still scarf-wearing-time in my case).
We have: SPRING.
Pavel wrote me a nice comment about viagra. I don't know why Pavel assumed I would need those. I can't find that I told him about sth like that. Actually, I don't even know Pavel at all. AT ALL.
There's funny stuff about spam mail: It's not harming me AT ALL. Like I said, little laugh from my side. Dear Pavel, if you own an eastern restaurant with good food, I'd love an invitation. You can also show me your hometown. Pavel sounds russian. I LOVE sightseeing, really! I love Russia, I guess. I was never there. I guess they have other things than viagra over there. But if this is all you can offer me – I declare our friendship broken off!!!